There are a few simple steps to customizing your Graslon Prodigy or Insight flash diffuser to your flash. Check out the video below:
Graslon's mounting system is truly a revolutionary way to attach diffusers to flashes. The basic concept is a friction fit, using silicone pads to keep the diffuser attached to the flash. The thing that sets Graslon's mounting system apart is how customizable it is. There are brackets that can be adjusted to fit any size flash within the diffuser's capabilities. Once the brackets have been adjusted correctly they will not need to be readjusted, the diffuser can slide on and off the camera, but won't fall off during normal use.
Have a little patience when first adjusting your Graslon diffuser, once you get the hang of it its easy. The instructions in the video or written just below will help you fully adjust your diffuser. Following the steps in order makes adjusting your diffuser to your flash a breeze, and ensures a great fit. If you have any questions feel free to give us a call at 877.967.7766 or email chris@graslon.com.
Here are written instructions:
Step 1: Loosen the thumb screws and the Strap. The four brackets should be free to move freely.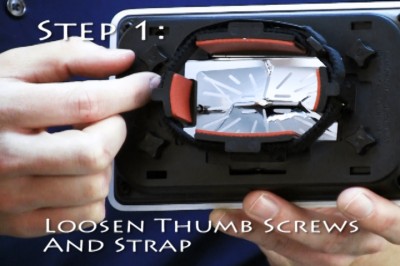 Step 2: Open the Brackets and Insert Flash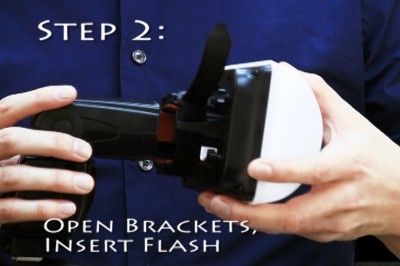 Step 3: Tighten and Secure the Strap. This will move all four brackets at once around the flash. Really give the strap a good tug! Don't be shy!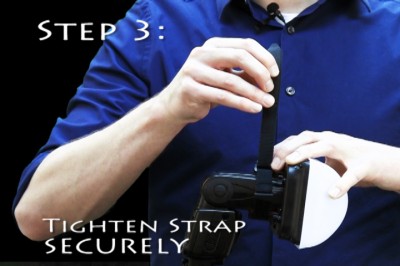 Step 4: Center Diffuser on the flash before tightening the thumb screws.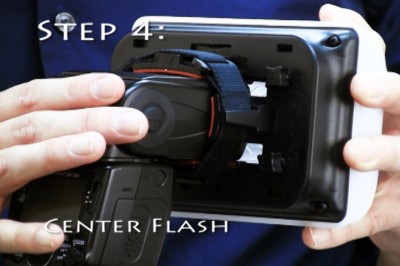 Step 5: Tighten thumb screws. Now the Diffuser can be attached or removed and only needs to be readjusted if fitting to another sized flash.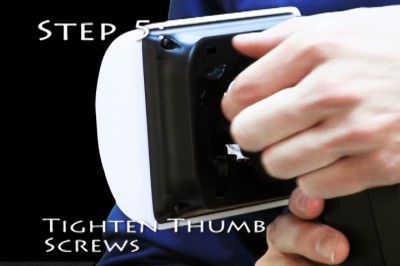 Troubleshooting Tips:
-The diffuser should be held onto the flash by the rubber pads. If the pads are not contacting the flash the flash may be too far in. There are some small "stops" on each bracket which keep the flash from going too far in.
-The strap needs to be tightened while the thumb screws are loose. Once the strap is tight, tighten the thumb screws.
-Sometimes folks do not pull the strap tight enough. If your diffuser is loose, fix it by loosening the thumb screws again and really tightening that strap. Then retighten the thumb screws once the strap is tight and secure.