What is the Spark?
The Spark is an accessory for your dSLR camera that makes pictures taken with the built-in pop-up flash more pleasing. By making a larger light source and taking advantage of whatever bounce is available, the Spark reduces overblown highlights and softens shadows. Watch the video above to see it in action!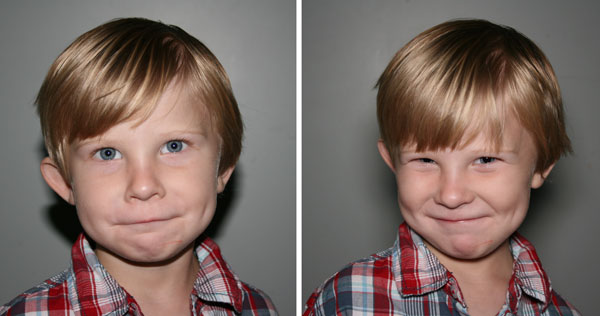 Above compares a snap shot with the pop-up flash alone to one with the Spark. When using the Spark much more depth and texture comes out instead of the relatively flat look from just the flash. Plus the shadow outline has been softened so it is not as noticeable. No settings were changed; the Spark was simply slipped on and another picture was taken (and the subject remained as still as four-year-olds can).
Below is a picture of the inside of the Spark with the front lens removed. The unique reflector system ensures that light will be distributed across the whole face of the lens without any hot spots or dead spots.
The Spark pop-up flash diffuser will work with most dSLR cameras, simply slide it into the hot shoe mount and take pictures as normal. The Spark will not inhibit the normal triggering of the flash and does not generally require that you change any settings.

Next is another example where the only difference was that we slid a Spark on the camera. No adjustment was made with the settings but you can see the difference both in the shadow and in the more pleasing tones across the face.
Learn more about the Spark here.